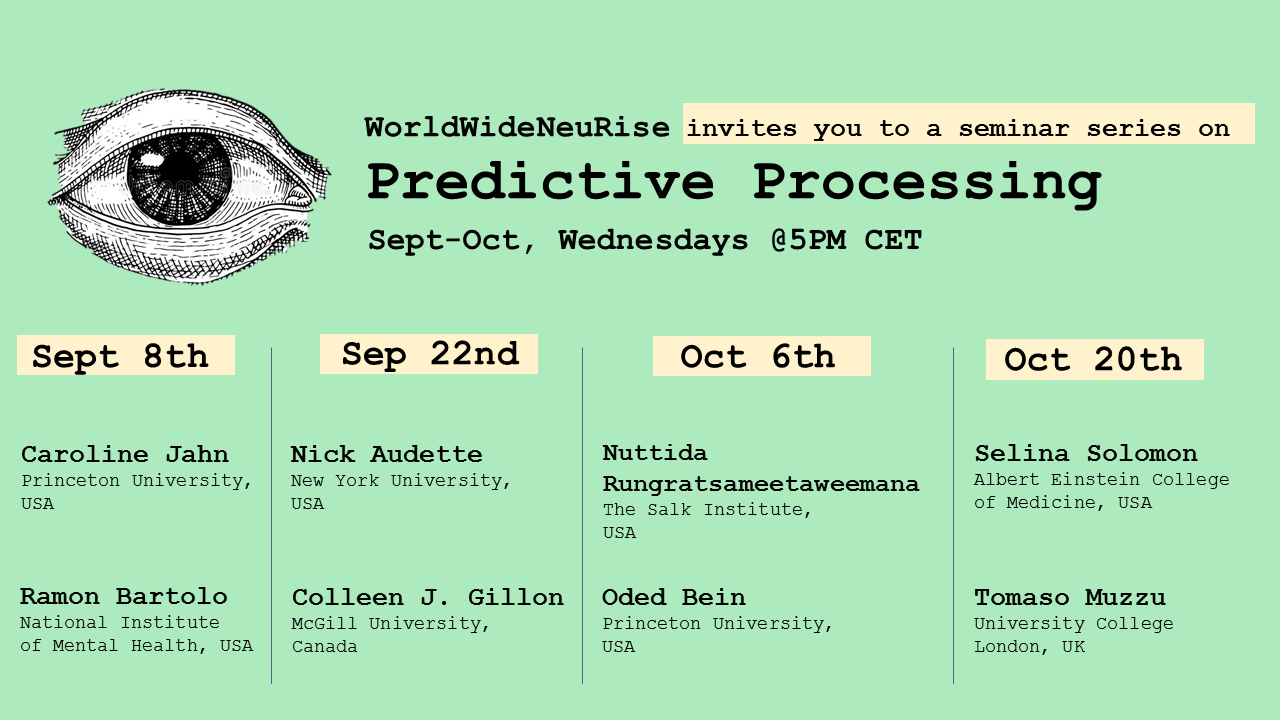 See here the schedule for our 5th block!! We will update it with the talks title and the abstracts.
As usual, talks will be streamed on Crowdcast
---
8th of September, 5pm CET
Caroline Jahn: "Rule learning representation in the fronto-parietal network" - Buschman lab, Princeton University.
Ramon Bartolo: "The role of the primate prefrontal cortex in inferring the state of the world and predicting change" - Averbeck lab, National Institute of Mental Health.
---
22nd of September, 5pm CET
Nick Audette: "Expectation of self-generated sounds drives predictive processing in mouse auditory cortex" - Schneider lab, New York University.
Colleen J. Gillon: "Learning from unexpected events in the neocortical microcircuit" - Richards lab, University of Toronto.
---
6th of October, 5pm CET
Nuttida Rungratsameetaweemana: "Neural dynamics of probabilistic information processing in humans and recurrent neural networks" - Sejnowski lab, Salk Institute & UCSD.
Oded Bein: "Learning and updating structured knowledge" - Niv lab, Princeton University.
---
30th of October, 5pm CET
Selina Solomon: Title TBA - Kohn lab, Albert Einstein College of Medicine.
Tomaso Muzzu: Title TBA - Saleem lab, University College London.
---